Welcome to the Grey Goo Wikia
Grey Goo is a real-time strategy game developed by Petroglyph Games and published by Grey Box for Windows PC. The game has is scheduled to be released in late 2014.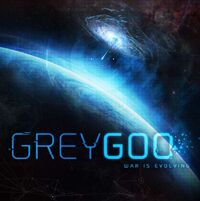 THE FACE OF WAR IS CHANGING.
Five centuries after humans first left earth, three factions fight to control the lifeblood of a rocky oasis: Ecosystem Nine. It is a world of chaos. Survival depends on the ability to grow, fight—and to evolve.
As commander to one of three factions, your goal is simple: to wage war. To forge machines of battle from catalyst, Nine's powerful resource—because whoever attains the largest supply has the tightest grip on the future