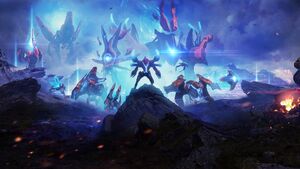 The Shroud, also known as the "The Silent Ones" by the Beta, are an enigmatic race that was responsible for the destruction of the Beta society, as well as possibly many other worlds with life.
The Beta initially believed that the Goo themselves are the Silent Ones, as the idea of a spreading Silence fits their expansive and initially sinister character. But it is revealed by Singleton that the Goo was actually opposing the Silent Ones and trying to save other lifeforms.
Background
| | |
| --- | --- |
| | "The Suma will not leave this planet, until we secure more catalyst." |
Notes
Despite being called "The Silent Ones"; they are anything but- extremely loud and chirping noises not too dissimilar from space-dolphins. Ontop of this, most early depictions of The Silence involve a more aggressive, red-and-black crystalline substance. While the Shround certainly have similar traits; they are likely not The Silence.
See also